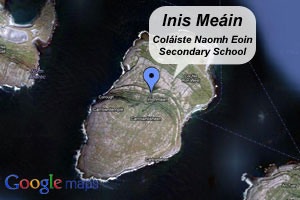 The Aran Islands off the west coast of Ireland are three small yet spectacular isles. To the west the Atlantic Ocean shapes and moulds these limestone reefs making them isolated and rugged whilst maintaining their exceptional charm and tranquillity.
Of the three islands, Inis Meáin, is particularly special. As the name suggests, Inis Meáin is the 'middle island' nestled between Inis Mór and Inis Óirr. It is this traditional detachment from both the Clare and Connemara coast that has lent to the evolvement of a resilient, independent island mentality. More intent on living and celebrating its heritage rather than exploiting it, Inis Meáin remains the lesser visited and least spoilt of the Aran Islands where Gaelic is still spoken in its purest form. Free from the complexities and demands of mainland living, Inis Meáin has embraced all the conveniences of the modern world whilst still maintaining a beauty, culture and tradition unique to the island.
The population is just 140, however there has been an increase in the amount of young couples settling on the island in recent years. The primary and secondary schools are a very important part of island life, providing families the opportunity to continue to make their lives on the island, giving students the opportunity to experience the unique lifestyle the island offers, and providing employment to help sustain the island community.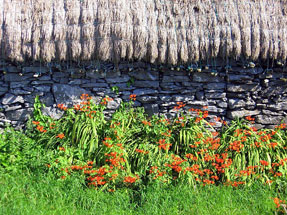 Other infrastructure includes a medical clinic with full-time 24/7 public health nurse and visiting doctor, a grocery store with post office & banking facilities, a church with Harry Clarke Studio stained glass windows, a knitwear factory renowned for exporting luxury goods worldwide and a local pub. Open seasonally are a small hotel, an internationally award-winning restaurant and guesthouse, and welcoming B&Bs and restaurants serving high quality ingredients from the island.