Boarding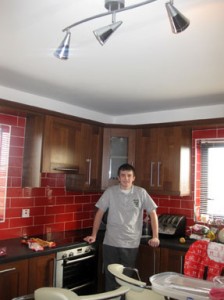 Students who register with Coláiste Naomh Eoin, become part of an educational setting where a wide range of subjects are offered and taught through the medium of Irish. In addition to the acquisition of the Irish language, there are excellent educational opportunities to be enjoyed. Coláiste Naomh Eoin is a small school, with a very high teacher-pupil ratio, which ensures that every student reaches their educational potential. The teaching staff is composed of vibrant, dynamic and highly-qualified members. There is a good rapport and mutual respect between teachers and students, which guarantees an atmosphere conducive to learning. Students are under the care of the school during normal school hours and during any school events or trips which fall outside of the normal timetable.
The Mná Tí, who assume the "Loco Parentis" role, cater for the wellbeing of the student or students residing with them outside of normal school hours. Every member of the host family, aged 18 years or above, has been Gárda vetted to ensure appropriate standards of the health and safety of students are maintained.
The students' parents are solely responsible for the students during travel time to and from the island.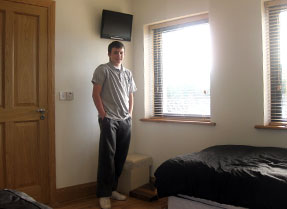 Inis Meáin is a quiet and beautiful island, a place in which inspiration and relaxation go hand in hand, preserved by time and tradition. It is a place where learning is encouraged naturally due to the unique remoteness and freedom from mainland living. Boarding packages are available to suitable candidates at a cost of €5,000 per annum. This exceptional fee covers all educational and accommodation costs (including meals). The fee can be paid in two instalments, one at the start of the school year and the second in January. Annual enrolement is capped in order to ensure that our unique learning environment is not compromised, namely the low number of students and hence the individual attention given to each and every student in Coláiste Naomh Eoin.
For this reason, we strongly advise applying for enrolement well in advance of the student's expected commencement date.
Packages and Accommodation Scholarships
The Department of Community, Equality and Gaeltacht Affairs funds up to ten accommodation scholarships each year to give second level students living on the mainland outside of a Gaeltacht area the opportunity to attend Colaiste Naomh Eoin on Inis Meain initially for one academic year.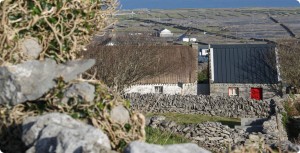 This funding forms part of the (Scéim na bhFoghlaimeoirí Gaeilge) Irish language learners scheme. The aim of this scheme is to give teenagers not living in a Gaeltacht area the opportunity to attain fluency in Irish. The students reside with local families on Inis Meáin for the academic year. The Irish language is the mother tongue in these local family friendly accommodations and students get an insight into the Irish language as an active common spoken native tongue in the locality. They reside with the family for the year, returning home every second weekend and for annual holidays.
List of Host Families 2013/2014
Cathy Bn Uí Chonghaile
Áine Nic Dhonncha
Teresa Bn Uí Fhátharta
Peggy Bn Uí Chonghaile
Mairéad Ní Fhátharta