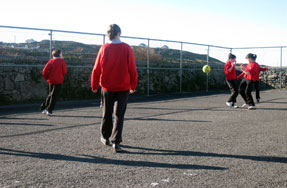 Coláiste Naomh Eoin was opened on the 1st September 2003 under the auspices of Coláiste Colmchille (Inverin) and the County Galway Vocational Education Committee. Since then Coláiste Naomh Eoin has gone from strength to strength catering for the entire second level educational needs of the island. Senior Cycle over two years (5th and 6th year) was first introduced in 2006. Since that time, every student who has attended this school has succeeded in obtaining a place on a recognised third-level course.
Students
For the academic year 2013-2014 the school has 23 students, approximately half of whom come to the island as boarders staying with host families, to attend Coláiste Naomh Eóin from all parts of the country, including Dublin, Laois, Offaly, Clare and Galway. The other half of the student population live permanently on the island with their families giving a good balance to the student population.
Buildings and Facilities
The school is housed in a newly constructed building since 2004. Four classrooms, including a computer room, and the school office are located here. Interconnected to this main building is a science laboratory which was renovated in 2008 at a cost of €100,000, a kitchen classroom, and a large hall with a stage and sports facilities. A brand-new woodwork, technical graphics and construction studies workshop has recently been added to our infrastructure. The school also has use of the local football pitch and an outdoor lined basketball court. Wireless broadband connection is available throughout the school.
Educational Activities
As well as very low pupil-teacher ratios in classes, the small number of students also gives each student ample opportunity to participate in a wide range of educational activities further to the subject curriculums. Entry to competitions relating to all subjects is actively encouraged and Coláiste Naomh Eoin students are regular participants in national and regional competitions such as the BT Young Scientist and Technology Competition, Junk Kouture, debating contests, and Irish and English writing competitions.
Two separate and varied weeks of work experience are completed by all students in 5th year and the school arranges trips to University Open Days to prepare senior cycle students for their future career and study path. Their are subject field trips to areas like The Burren in Co. Clare and physical activity trips for example to Croagh Patrick and to Petersburg Outdoor Education Centre in Clonbur, Co. Galway. The students have also travelled abroad to Italy, France and England on school tours.
Extra-curricular Activities
Supervised Study
For the current academic year, compulsory supervised study sessions for boarders by will be held in the school from 4.15 pm – 6.15 pm, Monday to Thursday and every other Saturday. The service, which is free of charge, is good practice for students, enabling them to take charge of their own learning in a controlled environment away from any distractions. This helps students to manage and enjoy their free time better. Island students are also very welcome and indeed actively encouraged to avail of the service.
Drama
Evening Drama class cumulating in a annual Christmas performance for the public
Sport
Evening Sport classes invlove a wide variety of sports by an experienced teacher