Inis Iron Meáin 10k Race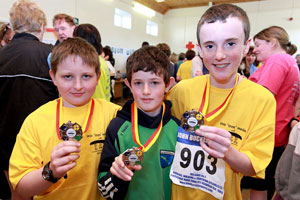 A 10 kilometer run over winding roadways, rough terrain, sand dunes and beaches, is what it takes to compete in the 'Inis Iron Meáin'. As an annual fundraiser since 2004, Coláiste Naomh Eoin hosts one of the most challenging athletic events in the country. From late September onwards, the students and staff of Coláiste Naomh Eoin start preparations for the event. This hustle and bustle radiates throughout the island and the whole community gets behind the school, making it one of the most anticipated events of the year.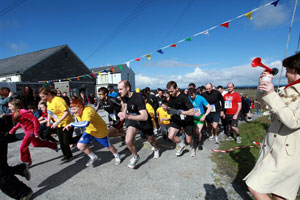 However, the weekend does not just focus on strenuous activity
alone. It is a chance for friends to meet up and a fancy dress competition is held in the pub on the night of the 10K.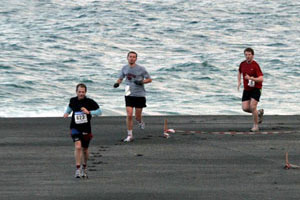 To participate in the Inis "Iron" Meáin on the 15/03/2014 you do not have to be a serious athlete. There is an easier shorter course and you can walk, jog or run. If you feel that you are up to the challenge then please visit www.inisironmeain.com for a complete profile of the event. On behalf of Coláiste Naomh Eoin, we would like to extend much thanks to all of you on the mainland and on Inis Meáin who supported the event to date, making it an event to remember which goes from strength to strength every year.