Gráinne Ní Lócháin, Dalta Cónaithe ó Bhaile Átha Cliath, Bliain 6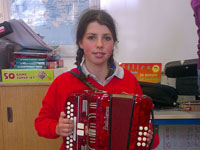 An imní is mó a bhí orm ná go mbeadh mé imithe as baile agus amuigh as an mbaile mór. Nuair a tháinig mé go dtí an t-oileán áfach, bhí chuile dhuine chomh fáilteach. Bhí iontas orm cé chomh suimhneach is a bhí an t-oileán chomh maith. Thosaigh mé i gColáiste Naomh Eoin sa chéad bhliain mar sin tá mé anseo anois beagnach cúig bliana. D'fhan mé le dhá clann álainn thar na cúig bliana sin. Ceann de na rudaí is fearr faoi fhreastal ar an scoil seo ná na ranga beaga mar faigheann chuile duine níos mó áird ó na múinteoirí.

Agnieszka Bogucka, Oileánach, Bliain 6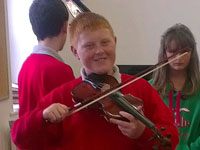 Is dalta mé sa scoil seo ó bhog mo chlann ón bPolainn go hInis Meáin nuair a thosaigh mé an mheánscoil. Ón tús thug na múinteoirí agus na daltaí eile gach cabhair dom ó thaobh socrú isteach sa saol nua agus leis an nGaeilge. Tá áiseanna mhaithe ag an scoil le haghaidh na hábhair eolaíochta agus adhmadóireachta – ábhair a thaitníonn go mór liom. Tá mé ag súil le céim sa leighis nó rud cosúil leis a thosnú an bhliain seo chugainn agus creidim go gcuirfidh an toideachas atá mé ag fáil sa scoil seo go mór le mo saol amach anseo.
Brook Owens, Dalta Cónaithe ó Bhaile Átha Cliath, Bliain 1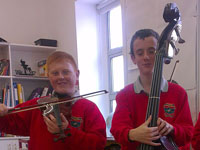 When I first heard about the school I thought it'd be great craic taking part in something like this. As I thought about it some more I realised it would be great to be able to live in the Gaeltacht, a place that is extremely important with regards to the culture of Ireland. When I arrived, everyone I met was so happy and friendly which influenced my hughly. I feel like I'm succeeding far more here than I would in a larger school because of the small class sizes. I'm so happy I came here.
Róisín Ní Chonghaile, Oileánach, Bliain 6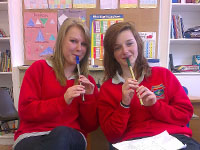 D'fhág mé an toileán le dul chuig meánscoil eile ar dtús mar tar éis fás suas in áit chomh hiarghualta bhí fonn orm saol na cathrach a bhlaiseadh. D'fhreastal mé ar scoil ar an mórthír le 300 dalta. Buíochas le Dia, d'athraigh mé m'intinn agus tháinig mé ar ais go dtí an scoil seo. Tá go leor buntáistí ag baint leis, ach go háirithe na ranga beaga, a chiallaíonn gur féidir le chuile dhalta níos mó páirt a ghlacadh sa rang agus mar sin níos mó a fhoghlaim. Faigheann muid níos mó áird agus cúnaimh, rud nach raibh le fáil sa scoil eile. Bhí mé níos sásta i measc mo sheanchairde chomh maith.
Diarmuid Ó Loideáin, Dalta Cónaithe ó Bhaile Átha Sluaighe, Bliain 5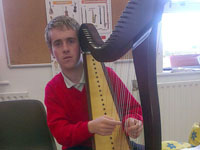 My first thoughts coming to the island were how friendly the locals were and I thought I could be myself here. At last, when I was to start at the school I was delighted to find out that I would be the only boy in 5th class and I ould be in a class with 5 other girls! It was very different as there were only boys in my last school.